Final Drive Gearing Calculators and
Chain Drive Differential Sprocket Calculators
Here are some excel (.xls) spreadsheets which are set up to calculate suitable gearbox (countershaft) and differential sprocket sizes for chain drive differentials fitted to bike engined vehicles.
[Right click on links to download]
If your bike engine is not listed, contact us via the contact page and we should be able to find the data.
We also have gearing calculators for jack-shaft installations and direct geared units for EVs.
Kawasaki
ZX14R
KX125
ER5 (2001)
ZX9R
ZZR1100d
ZX10R
ZX10R(2008)
ZX12R
ZX14R / ZZR1400
Yamaha
FZ6s
YZF-R6 (2008)
Fazer1000
Thunderace
YZF-R1-2000 to 2004
YZF-R1-2004 to 2006 (5VY)
YZF-R1-2008
Virago250
Honda
CMX250(Rebel)
CBR400RR (Babyblade)
CBR600RR(2007)
VFR800(2005)
CBR900RR (1992-1995)
CBR1000RR (1998/99 919cc Fireblade)
CBR1000RR (2006) (Fireblade)
CBR1100XX (Blackbird)
VTR1000F (2006)
Suzuki
GS500E
GSX600F Katana (1998-2006)
GSXR600 (2005)
GSXR600K6
GSX750F (1989-1997)
GSXR750 K7 (2007)
GSXR1000
GSXR1000 K7 (2007)
GSXR1100(oil cooled)
GSXR1100WP
GSXR1300R (1999-20-07)
GSXR1300R (Hayabusa) 2007
GSXR1300R K8 (2008)
GSX1400
Buell
Example Spreadsheet (Click to enlarge)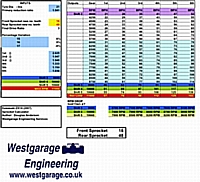 Spreadsheet Instructions
Author: Douglas Anderson
Web: http://www.westgarage.co.uk
Sprocket Calculator Version 01 – 09/11/2007
This spreadsheet is "Freeware" please credit Westgarage Engineering Services.
Notes:
Add your vehicle data to the INPUT section in the shaded boxes
Cell B3: Effective rolling diameter of your chosen tyre (in inches)
Cell B4: Primary reduction of your gearbox (from manufacturer's data)
Cell B7: Your selected gearbox sprocket (number of teeth)
Cell B8: Your selected rear sprocket (number of teeth)
Cell B9: Calculated cell (final drive ratio of front to rear sprockets)
Cells A12 to A14: Alternative gearbox sprockets (Results % difference in B12 to B14)
Cells B16 to B21: Gear ratios for 1st to 6th (from manufacturer's data)
Cells B23 to B25: Input 3 selected gearshift points (in rpm)
Cell B26: Input maximum rpm
OUTPUT table:
Cells F5 to K24: Speed (in mph) at set RPM in gears 1 to 6
Cells F25 to K27: Speed (in mph) at 3 shift points in gears 1 to 6
Cells G30 to K33: Drop in RPM for gearchange at shift points.
Cell G36: Gearbox Sprocket size (number of teeth)
Cell G37: Rear Sprocket size (number of teeth)
Warning:
This spreadsheet is not in SI units! (You may need to convert to SI units for your documentation).
Errors and omissions excepted
Sprocket Diameter Calculator